Mechel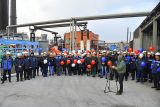 Mechel, founded in 2003, is one of the world's leading mining and metals companies.
The company has production facilities in 11 of Russia's regions and abroad.
Mechel is comprised of more than 20 production enterprises, producing coal, iron ore, steel, rolled products, ferroalloys, heat and electric power. All of the Group's enterprises work within a single production chain – from raw materials to high value-added products. The holding also owns three trade ports, transport operators and international sales and service networks. Mechel's products are marketed domestically and internationally.
What we do
Mining, steel, power, transport and sales enterprises of Mechel work within a single production chain and form a whole vertically intergrated production complex. A part of our products we sell to the market, another part is used as raw material for Mechel's production of high value-added products.
Company's assets produce a full chain of raw materials and high value-added products: coal, iron ore, pig iron, steel, billets, rolled products, hardware and electricity generation. Shipping and sales are secured by its own logistics and sales networks. Such vertically integrated complexes with a balanced production chain and its own secured resource and power base are more effective for the purposes of cost savings and less vulnerable to market volatility.
Products
Mechel is one of the world's leading mining and metals companies.
The Group's mining segment produces a wide range of coal products – coking coal concentrate, anthracites, PCI, steam coal, iron ore and a wide assortment of coke chemicals.
The steel segment's facilities produce billets, flat and long rolls, structural shapes and sections, rebar, a wide assortment of hardware, stampings and forgings of carbon, construction, engineering, high-speed, stainless, corrosion-resistant and other specialty steels and alloys. Also, within this product range, the company may produce various steel grades to a customer's specifications.
Companies of Mechel's power segment ensure generation and sales of electricity and heat both for Mechel's enterprises and to third parties in order to obtain additional profit.
Contact
Mechel
1, Krasnoarmeyskaya st.,
Moscow,
125167
Russian Federation
Gallery