Siemens South Africa integrates local KACO new energy organisation after global acquisition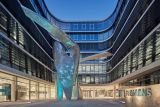 KACO new energy GmbH is a leading manufacturer of power electronics in the energy sector, since the global acquisition of the string inverter business Siemens South Africa has fully integrated the local organisation.
The South African KACO business was previously headquartered in Hyde Park, Johannesburg and has since been relocated and integrated into Siemens Smart Infrastructure based in Midrand, where it has become part of the Distribution Systems Business Unit.
The newly acquired business is active in more than nine countries with local sales and service companies and has more than 350 employees globally. KACO new energy's product line covers the full power range, from inverter units designed for a family home, commercial buildings and infrastructures to complete systems for solar parks producing megawatts of electricity. The company puts special emphasis on the fastest growing segments of string inverters for solar and storage applications, up to 1500V and using the latest semi-conductors. KACO new energy has developed the next generation inverter technology based on silicon carbide (SiC), which leads to best-in-class power density and superior thermal behaviour for installation in demanding environments.
"We are delighted to be integrating KACO new energy into our Smart Infrastructure Operating Company. With this acquisition we're in a stronger position to succeed in technology that supports the energy and mobility transition." Sabine Dall'Omo – Siemens CEO for Southern and Eastern Africa.
Distributed energy, renewable energy sources and eMobility are playing an increasingly important role in the South African energy value chain, requiring increasing intelligence via an open and flexible ecosystem of technology, solutions and services. Siemens is supporting its customers and the society in reaching their ambitious goals for climate protection. With the complementary power electronics portfolio of KACO new energy, Siemens is strengthening its technological leadership in the high-growth fields of decentralized energy systems and is providing corresponding benefits to customers.
"The combined capabilities, technology know-how and solutions between KACO new energy and Siemens will ensure that we bring better value to our existing and prospective customers. Our proficiency in electrification and buildings will also enable us to thrive in the market and continue to expand in the areas of decentralized energy, renewables, storage and electric vehicle charging infrastructure." Sabine Dall'Omo - Siemens CEO for Southern and Eastern Africa.
Source of information
Siemens and ProfiBusiness.world
Date