POSCO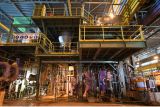 POSCO was launched on April 1, 1968 with a mission for national industrialization.
As the first integrated steel mill in Korea, Posco has grown to produce 41 million tons of crude steel a year, and has grown to become a global business with production and sales in 53 countries in the world.
POSCO has continued to contribute to the development of mankind through endless innovation and developments in technology, and has become the most competitive steel maker in the world.
POSCO will continue to be an enduring company, trusted and respected by people established its management philosophy Corporate Citizenship: Building a Better Future Together.
Products
Hot Rolled Steel
Hot rolled steel products are divided into two groups: hot rolled coils produced through hot rolling and hot rolled steel plates, which are made by cutting material from hot rolled coils. Slabs produced from a continuous casting system are rolled, cooled and coiled into the sizes required by the customers.
Steel Plate
Steel plates are hot rolled products that have a relatively high thickness. Products having a thickness of over 4.5 mm are classified as steel plates, and those having a thickness of over 100 mm are called thick steel plates. Slabs of steel plates made through continuous casting are tailored to the dimensions specified by the customer through rolling and cooling before being cut into their final sizes.
Wire Rod
Wire rods are available in the form of coils. The cross-section of the rod ranges from 5.5 to 42 mm.
Billets produced from a continuous casting system are rolled, cooled and coiled into the sizes required by the customers.
Galvanized Steel
Galvanized steel products are made by cleansing and heat-treating rolled coils before dipping them into a bath of molten zinc. Through this process, the coils are plated with zinc only (GI), zinc and iron (GA) or zinc, aluminum and magnesium (PosMAC).
Electrical Galvanized Steel
Electrical galvanized steel is made by plating steel with zinc in an electrochemical manner. Plating uses pure zinc or zinc and nickel.
Electrical Steel
Electrical plates are also called electronic plates or silicon plates. Compared to regular steel plates, silicon plates contain more silicon, featuring good electric and magnetic characteristics
Stainless Steel
Stainless steel is a special steel featuring a splendid surface and good resistance to rust. As a high value-added product, stainless steel can be used for diverse areas without requiring any additional treatment.
Titanium
Featuring white metallic gloss, titanium is light, extremely strong and highly resistant to corrosion. Its main applications include shipbuilding, power generation and medical devices.
Contact
POSCO
6261, Donghaean-ro,
Nam-gu, Pohang-si,
Gyeongsangbuk-do,
Republic of Korea

Gallery