SSAB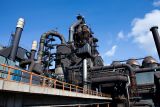 SSAB's vision - a stronger, lighter, and more sustainable world
SSAB is a highly-specialized global steel company driven by close relationships with our customers. SSAB develops high-strength steels and provides services for better performance and sustainability.
SSAB is a leading producer in the global market of Advanced High-Strength Steels (AHSS) and Quenched & Tempered Steels (Q&T), strip, plate and tube products, as well as construction solutions. SSAB's steels and services help to make end products lighter and increase their strength and lifespan.
SSAB has a cost-efficient and flexible production system. SSAB's production plants in Sweden, Finland and the US have an annual steel production capacity of approximately 8.8 million tonnes. The company also has capacity to process and finish various steel products in China, Brazil and many other countries. In Sweden and Finland, production is integrated into a blast furnace process. In the US, electric arc furnaces are used for a scrap-based production process.
SSAB has been at the forefront of sustainability in many ways. With confidence deriving from our traditions, we now strive to do even more. SSAB's plan is to offer fossil-free steel to the market in 2026 and to eliminate all of our CO2 emissions by 2045.
SSAB Special Steels
Global steel supplier and service partner in Quenched & Tempered Steels (Q&T) and Advanced High-Strength Steels (AHSS).
SSAB Special Steels' wide product portfolio includes a number of unique steel grades. Hardox® - our global brand of wear steels - has the highest awareness of all brands in the steel market. Through close collaboration, we help our customers to utilize our high-strength steels to create new, innovative steel solutions and applications.
SSAB Europe
SSAB Europe is leading Nordic-based premium steel producer of high-quality steel strip, plate and tubular products. The division stands out from other steelmakers through its know-how of production processes, applications of high-strength steels and value-added services.
SSAB Americas
SSAB Americas is market-leading North American producer of quality steel plate and coil. SSAB Americas is the largest producer and supplier of steel plate in North America, strongly positioned and highly recognized in the region for cost efficiency and quality.
Contact
SSAB
Kontorsviksvägen,
784 44
Borlänge,
Sweden
Gallery