Philips and Oxford University Hospitals NHS Foundation Trust team up to deploy innovative digital pathology network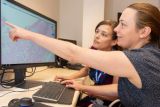 Pathologists play a critical role in disease detection, particularly with cancer diagnosis. Traditionally, pathologists analyze tissue samples on glass slides under a microscope. When seeking a consultation with a sub-specialist, these glass slides must be transported to the second site, which can result in lost or damaged slides or delays in diagnosis. By creating a digital network, OUH will leverage the Philips IntelliSite Pathology Solution, including its Ultra Fast Scanner and Image Management System, to allow clinicians across the three regions and within the Thames Valley Cancer Network to collaborate remotely on patient cases. This enhanced collaboration will help reduce delays in slide transport times, encourage more efficient workflows across the sites, and enable quicker access to specialist pathology opinions. Digital pathology will also support NHS Improvement's proposed Pathology networks, bringing together clinical expertise with the goal of enhancing patient outcomes.
"As an NHS Global Digital Exemplar committed to improving patient care by embracing the latest digital technologies and cross-site collaborations, this partnership aims to modernize patient care and offer innovative world-leading services." Professor Clare Verrill, Honorary Consultant in Cellular Pathology, Oxford University Hospitals.
Digital pathology will transform microscopy
Philips IntelliSite Pathology Solution is an automated digital pathology image creation, viewing and management system comprised of an Ultra Fast Scanner and Image Management System. This solution contains advanced software tools to manage the scanning, storage, presentation, reviewing, and sharing of images. Philips IntelliSite Pathology Solution is available in various countries globally for primary diagnostic use. In addition to its CE-IVD clearance in Europe, it was the first – and currently only – digital pathology solution allowed to be marketed for primary diagnostic use in the U.S. since April 2017 and in Japan since December 2017.
Clinical cases will commence once network installation has completed, expected in Q3 2018. For more information, please visit Philips digital pathology.
[1] NHS England. 2016.
(last accessed: June 2018)
[2] Cancer Research UK. 2016.
(last accessed: June 2018)
Source of information
Philips & Profibusiness.world
Date
Gallery