Samsung Awarded by Thai Government for its Dual Vocational Education Program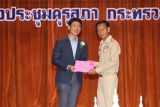 Thai Samsung Electronics has been recognized for its contributions to vocational skills education by Thailand's Ministry of Education for a second consecutive year. The Samsung Dual Vocational Education Program (Samsung DVE) has played a vital role in helping students develop skills that are essential for careers in vocational fields and has assisted over 100 skilled technicians since 2016.
Samsung DVE returned in 2019 for the program's fourth year, partnering with the Office of Vocational Education Commission in Thailand. The program prepares students for vocational careers as skilled technicians, a profession in high demand in both the Thai and ASEAN labor markets. Samsung DVE has provided vocational training, internships and job opportunities, with a significant proportion of participating students going on to serve customers at Samsung Service Centers nationwide.
Commenting on the award, Jung Sung Park, Director of Customer Service Planning, Thai Samsung Electronics Co., Ltd said: "Samsung is pleased and proud to have a role in the skills and career development of Thai technicians. The company is delighted to make this contribution to the Thai labor market. This program not only affirms the company's commitment to creating benefits for Thai society through its expertise in technology and innovation, but also indicates that Samsung is prioritizing the development of human resources – in particular vocational skills – which are currently in high demand in the Thai labor market."
Dr. Suthep Chittayawong, Secretary-General of the Vocational Education Commission, said: "The Office of the Vocational Education Commission would like to thank Samsung for creating this project and is delighted that the company has given importance to the development of skilled labor, especially technicians, who are in short-supply at this moment. At present, major industries in Thailand need skilled workers to drive the country's economy toward Thailand's 4.0 goal. This collaboration with Samsung is very helpful in giving students real internship experiences, which enable them to learn how to solve real problems in the world of work."
Source of information
Samsung & Profibusiness.world
Date
Gallery