SAP to Fund Internal Collaboration Startup Ruum With €10 Million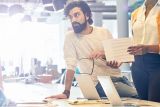 SAP SE (NYSE: SAP) will invest an additional €10 million in Ruum by SAP to help the solution grow its business quickly.
Ruum is the simplest software-as-a-service (SaaS) solution that connects enterprise business processes with team productivity, enabling 1 billion SAP software users to connect business data with an intuitive, adaptable collaboration suite. Ruum integrates with the core SAP product portfolio as well as popular collaboration platforms, such as Microsoft Teams and Box Inc.
While most business-to-business (B2B) SaaS companies begin in the small and midsize business (SMB) market, Ruum has achieved early success in the enterprise segment. The €10 million investment from SAP will allow Ruum's core team of 20 to continue to devote resources to its enterprise offering while moving into the global SMB market.
The project management software was initially developed by a team of SAP employees. It has already acquired more than 30,000 users from 2,000 companies; 200 nonprofits, which can use the software free of charge; and six blue-chip enterprise customers, including NIVEA parent company Beiersdorf AG. Ruum's growth over the past two years has been totally organic with almost no marketing spending.
Martin Böhm, chief digital officer, Beiersdorf, said: "Ruum has changed the way my teams collaborate and get work done. They spend far more time adding value to the business and far less time on repetitive admin. It has increased team productivity by at least 30 percent, and this has a direct impact on our bottom line."
"Ruum provides a lightweight collaboration layer across the SAP portfolio and allows users to put operational data into action," said Max Wessel, chief innovation officer, SAP. "This has the potential to streamline messy workflows across the enterprise. It's a great idea coming from a group of employees who've lived through the pain."
Ruum is a portfolio company initiating from SAP.iO Venture Studio, the internal incubation program managed by the SAP.iO business unit.
More information is available in The NewsRuum blog. Visit the SAP News Center. Follow SAP on Twitter at @sapnews.
Source of information
SAP & Profibusiness.world
Date