Worldwide by easyJet connections now available at Paris Orly with the Self-Connect© desk service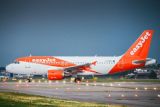 easyJet, Europe's leading airline, has announced its Worldwide by easyJet service is now fully operational in Paris Orly where the airline is currently in partnership with two long haul carriers: Corsair and La Compagnie.
From last friday onwards passengers are able to drop their bag at the Self-Connect© desk nearby the bags carrousel and make their way to next departure terminal with a fast track access to save time at security checks.
Francois Bacchetta, France country Director for easyJet commented: "We are pleased to announce the launch of this additional service in Paris Orly today. easyJet carries 3.6 million passengers to and from Paris Orly to 19 destinations offering many options to customers flying across France and Europe and selfconnecting in Paris Orly."
Worldwide by easyJet is live across 170 airports of easyJet's network.
Worldwide by easyJet explained
'Worldwide by easyJet' is the first global airline connections service by a European low fares airline. Legacy airlines have traditionally offered connectivity through costly and complex interline and codeshare agreements and procedures. With Worldwide by easyJet these will be replicated by self-connect and sales partnerships through a digital, virtual hub which will offer the same sort of connectivity but more simply and efficiently.
easyJet has leadership positions at more of Europe's major airports and flies on more of Europe's 100 largest routes than any other airline which makes it the most attractive European short haul airline partner. The introduction of this disruptive product opens up new 70m market segment for easyJet.
All of this connectivity has been enabled by technology partner Dohop whose innovative platform allows easyJet customers to book connections and forward flights on easyJet.com. Worldwide by easyJet will also allow easyJet passengers to connect with other easyJet flights through partner airports.
Worldwide by easyJet does not impact easyJet's punctuality, its asset utilisation or operating model. The airline will not hold flights for connecting passengers. Worldwide by easyJet is subject to a 2 hour 30 minute 'Minimum Connection Time', which will give customers plenty of time to transfer between flights and/or terminals. Should a passenger miss a connecting flight they will be transferred to the next available flight.
Source of information
easyJET & ProfiBusiness.world
Date